Attention: Professional and Entrepreneurial Parents and Teachers who Love Personal Development!
...and Want to Share it with Their Kids
Imagine showing your children empowering life lessons
in a fun way they learn them quickly and easily!

"Karin is an amazing teacher and has so many wonderful stories, lessons and incredible insights that will touch your heart and stir your spirit and soul. She moved my heart and soul." ~John Assaraf


"If you need any inspiration in your life, listen to their story because not only will you be moved, your whole outlook on life will change. They set an example and show how love really does conquer all." ~Lisa Sasevich

If you want to help your kids have more confidence and fun, then keep reading...

Dear fellow parents and teachers,

I know what it's like to struggle with life challenges that affect the whole family.

Your communication with your kids gets harsh and short, then regret kicks in. You just need a better way to talk to your kids! The kids are missing out on simple, joyful times with you.

You're missing some basic principles that bring love, joy, peace, and abundance into your home...no wonder you're in survival mode.

It's so frustrating! You know the value of spending time with your kids and teaching them these valuable life lessons but you're just not getting the message across.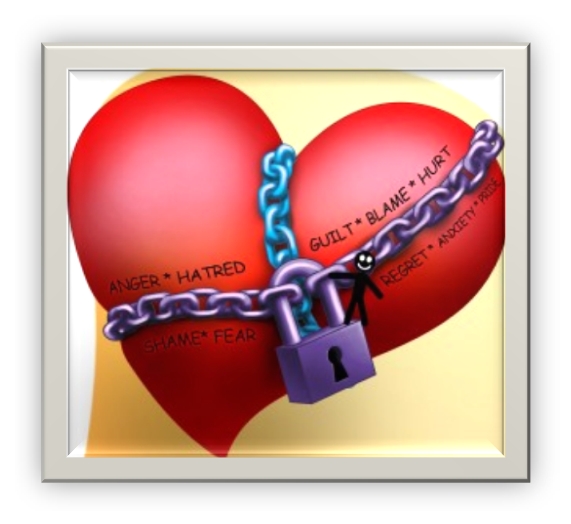 If you are...

Struggling to find joy in your family in this busy world we live in
Worried your kids aren't learning important life lessons you're trying to teach them
Dealing with difficult family challenges and wonder when it's going to change
Watching the news every day and feel powerless in your parenting
Just stressed out with the whole work and family juggling act
...Then you're in the right place.

If you're passionate about having a strong your connection and bond with your kids, then you must manage your stress and emotions with them much more efficiently.


Your kids are growing so fast and every second counts!
And the good news you don't have to settle in survival mode. Now you and your family can thrive!

Does it seem like your kids just don't understand what you're saying to them? You see their lack of interest when you try talk with them?
I'm going to share with you the REAL secrets to staying connected, managing your stress, and emotions so your kids get it.

How I created the family haven of my dreams
with the simple lessons from Joy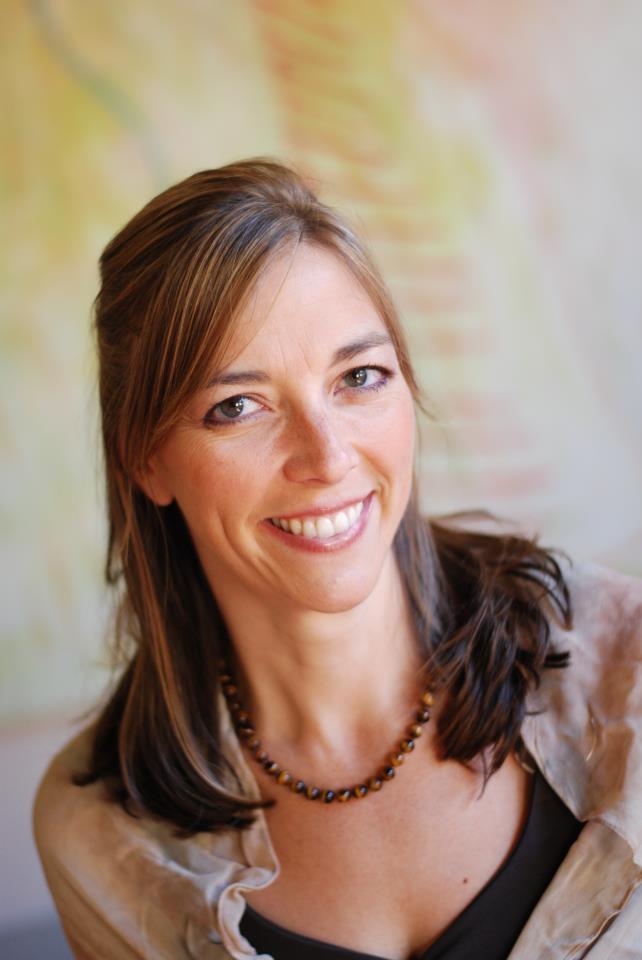 I'm Karin Volo, my life has taken a 180 degree turn from one of the most negative circumstances you can imagine to living my dream life, full of love, abundance and great energy. My family thrives every day because of a deep connection we all share. We understand and communicate when we're confronted with a disagreement.

In 2011 I published the Bringing Joy picture book series to fill a void for many parents and teachers just like me. The best part is, I get to help more parents and make a bigger impact without burning out. Most weeks I am passionately helping others find joy in their lives and filling my own life with joy. I love spending quality time with my kids, playing with our pup, and taking long walks with Sergio, my wonderful husband. And we love taking trips together too.

Recently I was in Tuscany enjoying the company of many other entrepreneur parents, connecting and bonding! I'm able to give generous gifts to parents and experience exciting new things because I have the tools to creating and maintaining a stress-free family life.

But it wasn't always this way...

For 4 years I was living the most
negative and dark times of my life...
I felt completely lost and powerless as I sank deeper and deeper into a legal nightmare. I was accused of things I hadn't done and sat incarcerated while I was fighting for my life. Feelings of devastation overcame most of my days.

I kept wondering "how did I get lost in this mess?"

The hardest part was being separated from my family, being totally alone on a different continent!

I began doing everything I could to stay strong and positive to get through the ordeal. It felt as though it might never end.

What I discovered was ways to connect to the inner core strength and courage that we all have within us. Joy came to me in meditations and showed me how to easily understand Universal laws, traits, and tools to help me and my family cope with any challenges ahead of us.

This was a huge liberation and freeing breakthrough for our family.

I realized we could get out of survival mode and jump into thriving.

I didn't want to waste anymore of our life struggling!
We learned how to THRIVE and we all came through it stronger, happier with an even deeper connection, more love and an appreciation for every aspect of our lives and each other.

And in the end, exactly what our entire family had been visualizing came to pass: all the charges were dropped, the cases closed, and I could finally return home to my family—where I belonged!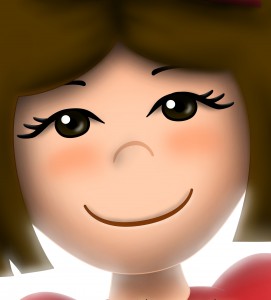 Joy came to me during those difficult years in meditations, she kept me connected to my daughters even though I was missing out on their daily lives. I knew as the time dragged on those years that Joy was something special.

Joy really was a gift. And I know I am meant to share this now. There was a bigger purpose to the whole ordeal and I believe it was to bring more joy into the world—literally!

Joy's life lessons are easy to understand, easy to share and easy to use in daily life. Joy has a wonderful way of describing what many would consider complex spiritual topics in a way that is so simple a seven year old can learn them quickly and easily.

My children and I love the lessons so much that we knew we had to share Joy's teachings to help families around the world. Today we invite you and your family to join with us and bring more joy into your world.
These powerful ebooks will help you enjoy more quality time with your
family and create a powerful, thriving life...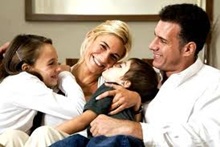 Give your children confidence and empower them for life
Have closer family relationships
Teach your family universal principles and values
Make your family a power team to create your dream life
Learn to live joyfully with love
Have more fun, more peace and abundance
Transform your life, your family life, with powerful principles


We were inspired, I would say, deeply inspired, by her work.
~Neale Donald Walsch

"With my business, I see a lot of great books but the Bringing Joy series is so unique and fresh, teaching Universal truths and lessons for all ages. These stories are captivating and engaging, not only for me but especially for my six year old daughter. We love reading them together! Karin Volo is such an inspiration bringing this amazing gift to the world. Joy is sure to make a huge impact on the way we teach our children. I highly recommend these transformational books for anyone who wants to connect on a deeper spiritual level and who wants to share their growth with their children and loved ones."

~Christine Kloser, TransformationalAuthor.com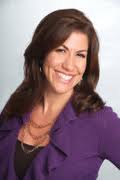 "Karin and Sergio Volo are two incredible people who have faced the worst of times and came through the other side stronger and more courageous than any other couple I've ever met. Now they are turning those challenges into a wonderful, heart centered business where they are helping thousands of people...If you need any inspiration in your life, listen to their story because not only will you be moved, your whole outlook on life will change. They set an example and show how love really does conquer all."
~ Lisa Sasevich
The Queen of Sales Conversion
www.LisaSasevich.com
Wouldn't it be great if your entire family
could grow and develop together?
Our world is changing so quickly right now.

Our old ways of managing simply aren't working anymore. With so much uncertainty in our lives, we can easily feel fear about what is happening.

When can you live a life full of peace and joy?
The fear we feel comes from not understanding the bigger picture of our changing world. It is this disconnection to our true nature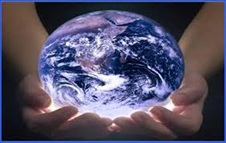 that causes so much stress and worry. And when you are feeling this fear, it affects your whole family. Your kids pick up on all the uncertainty and nervousness you might be feeling so that the entire family may not seem to be functioning as you would like it to.

We need to find new ways of looking at the world. All these challenges are forcing us to change the way we see things and find new ways to managing our lives. We need to find the joy in our lives! We need to look within ourselves to see all the wonderful things we can be grateful about and then help others by being a part of something bigger - living our lives from Universal truths and love.


Here are the essential elements to empower your life



Enjoy a new and exciting ebook every month. We'll deliver the eBook right to your inbox at the first of every month. Each story is filled with wonderful stories, lessons and incredible insights.



What do you feed your brain? Each month we will share short inspiring videos to nourish your brain with powerful messages and inspire more joy and happiness. These videos are sure to brighten your day!



Go deeper every month with a live call with the author, Karin Volo. Every call you will have the opportunity to ask any questions around that month's topic. You don't want to miss these lively calls where Karin will share success stories, experiences and expertise.



Join Karin and her daughters every month as they share how each book worked in their lives during tough times. How they are still using them on a daily basis. Get the perspective from kids and parents! Be sure to watch these series with your kids for extra fun.



Meet like-minded people who want to make a huge positive impact on their families. Join other families who are actively raising their awareness.

Received exclusive member discounts to products, services, games, phone apps, and much more. Also participate in contests, trips, and other fun activities.



When we change our inner world,
our outer world will change!


Will you join us and bring Joy into your life and share this with your loved ones?

You and your family will learn how incredibly powerful you really are and how much you can be in control of what is happening in your lives. You will learn how to work with empowering Universal Laws and Tools so that you can create all that you desire to have in your lives.

These books open up a level of communication that has real meaning and teaches strong values. It truly empowers anyone who reads them!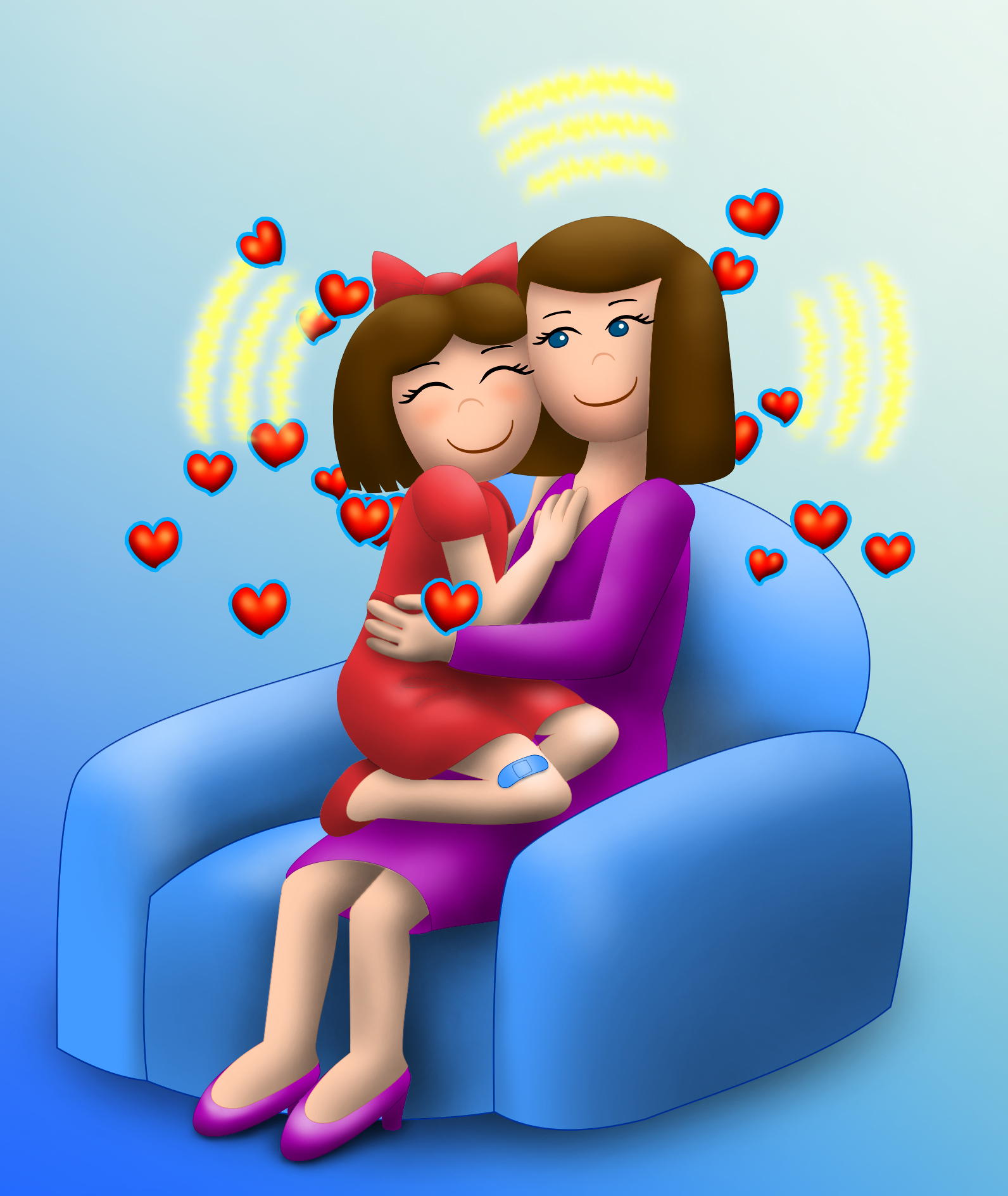 Why should you join the Bringing Joy Club?
Who doesn't want to feel good and happy in their lives right now? Being a part of this leading edge community, where you get tremendous value and connections, will help you and your family grow. But you will also be a part of something bigger...making the world a better place by spreading more Joy. It is fun, you have multi-generations learning self-development, and you are connecting to a great group of positive, like minded, spiritually aware families.



Join today to bring more Joy into your life now!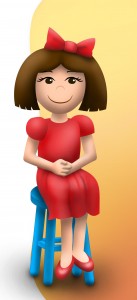 The sooner you start reading the Joy series and interacting in the community, the sooner you will start to feel more joy in your life. Joy's pictures alone will lift your spirits and connect you to your loved ones on a deeper level.

Taking action today will put you on a new path to great spiritual and personal development, not only for you, but for your whole family! What fun to think you can all grow and learn together.

There are also many benefits in the works behind the scenes right now and you will be the first to hear about them as we roll out new means of spreading Joy to the world.

Be a part of this journey with us now!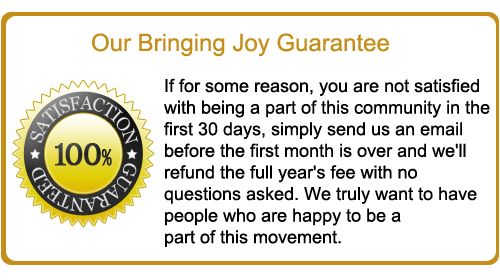 You'll receive: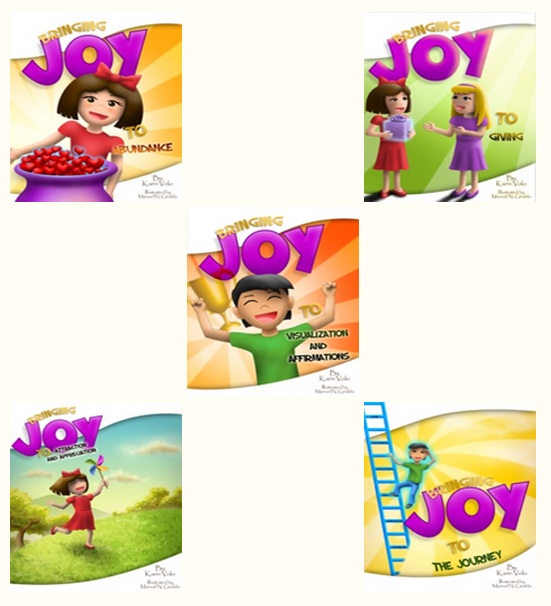 12 Joy E-books
12 Inspirational Videos
12 Monthly Theme and Live Q&A Calls with author Karin Volo
12 Episodes of Bringing Joy TV, fun and inspiring times with Karin and her daughters
Membership in the Bringing Joy community where you can share insights, ideas and network with like-minded people.
24/7 access to the private Bringing Joy Forum
Your very own profile page
I understand that by joining the Bringing Joy Club, I will be receiving all these great benefits that will help to me bring more Joy into my life. I can clearly see the value offered here.

I understand that there is a 30 day guarantee and if I am unhappy in any way I will receive my money back no questions asked.

You get all of this at an incredible value!



One Year Premium Membership: $97 (save $142.97)


Or you can pay just $19.97 per month



One of the best things about Joy for me was that I felt our entire family get closer as we shared the Joy stories in our lives—even though we were physically separated by over 5400 miles!

In order to change your world, you need to start inside first, then your family, then your community, and then the world.

You can begin today by learning Joy's lessons through her books. That's why we've developed the Bringing Joy Club. This is a structured way to practice each month one of Joy's messages and meet others on the same path to discovery as you.

With Love and Joy,



Karin Volo

P.S. Tell your family and friends about Joy

Here's what people are saying about Joy!



"I am really impressed with the Joy books!"

"I am really impressed with the Joy books! Very well written and illustrated but more importantly, this series of books provides powerful and positive character development value for kids from any culture and any social background."

~ Steven von Kohorn, Chairman, World Mobile Media LLC. (USA), Paris, France
"I urge you to read the entire Bringing Joy series!"
"These books capture the fundamental concepts you need to know about how energy works. It's clear, it's concise, and it's easy to read for all ages. The illustrations are beautiful-they bring that frequency that is necessary to understand that everything around us is our environment. Karin has captured that so completely. I urge you to read the entire Bringing Joy series!"

~Susan Hayward, Create Results, Carbondale, CO, USA
"Joy has come to bring a message of hope, joy, wisdom and love to our world" When I was introduced to little Joy on my computer screen during my tele-seminar with Karin Volo I was so taken by her little smiling face but especially her beautiful large, innocent eyes. I had seen her appear on different pages of our teaching material and one evening I was dealing with some inner issues and looked into the eyes of little Joy and was so moved to see the love, wisdom and innocence shine through her big eyes that it made me weep.

Even as a woman of 66 years I found myself getting in touch with my own inner child and experienced the comfort of this new little friend Joy. I believe Karin has captured in her paintings the essence of this loving little spiritual teacher named Joy so well that she will inspire and endear many.

Joy has come to bring a message of hope, joy, wisdom and love to our world, not only to children but to the child in all of us young and old alike.

~Veronica Perko, Uralba, Australia

Copyright 2012. Bringing Joy Club
A Life With A Fabulous View, Inc.
301 Thelma Dr. #264
Casper, WY 82609